Sunday Worship – June 25th – New Members Joining
Sunday Worship – June 25th
Join us in the Sanctuary for a special Sunday worship featuring the children of our church!  The church service is on Sunday, June 25, 2017 at 10:00 AM.   Rev. Dr. Anne Coffman will be preaching.  Also on this day there will be new members joining WCC!  Please be sure to welcome them during coffee hour.
Rev. Anne's Biblical Reflection
Nominating Committee Update
The Nominating Committee is looking for people to fill the following positions:
Buildings & Ground Committee – Chairman
Board of Membership -Vice Chairman
Board of Stewardship – Vice Chairman
Nominating Committee – needs two people
Backpacks for Kids in Need!
WCC will be providing back to school backpacks and gift cards for 30 Wilton family school children through Wilton Social Services. We know this is early, but we wanted you to know in case you are going away for the summer and wanted to get it done early. We are looking for congregants to donate 5 Large backpacks for high school boys and 5 large for high school girls, the kind that have the space in them for computers or tablets; 5 medium size backpacks for middle school boys and 5 medium size back packs for middle school girls, and 5 small backpacks for elementary school boys and 5 small backpacks for elementary school girls. We are also looking for 10 gift cards for each of the following; $25 for elementary children, $75 for middle school and $100 for High School students. The gift cards should be for Staples or Walmart.  Please see the School Bus and the tree in Pilgrim Hall and choose a tag.
All good coaches will tell you that teamwork is important to win a game.  All who serve as Stephen Ministers become part of a team that helps people win life's toughest battles.  Our victory parties are great.  God may have a place for you on our caregiving team!  To learn more about this exciting opportunity contact Rev. Anne at 203-762-5591 or speak with Stephen Leaders Gil Bray and Ann Newton at the Stephen Ministry table at Coffee Hour.
SAVE THE DATE!  Celebration of Service/Hoe Down
Save the date for September 16th!  The celebration begins with a Saturday@5 worship service, which includes recognition of church members for their service to our church.  Following the service, there will be a celebration in Pilgrim Hall, featuring a silent auction, dinner and square dancing with a professional caller!  Presented by the Board of Mission and Service and the Board of Fellowship.
WCC will be preparing lunches for Bridgeport Rescue Mission's summer lunch program for children in South Norwalk who are attending the Summer Learning Program. This will be from Monday June 26th through Thursday June 29th. We will be making 265 bagged lunches each morning, then delivering them to Norwalk. We have been told the kids really like ours because we make them fresh each morning. We can use volunteers to make the sandwiches and assemble the bags. This is one of the great opportunities for all ages of; adults, youth and kids to help. There is no minimum age limit.  It will be from about 8:30 am to 10:00 am each day.  Click here to sign up or email Giff Broderick to sign up.
Pollinator Pathway Garden at Hillside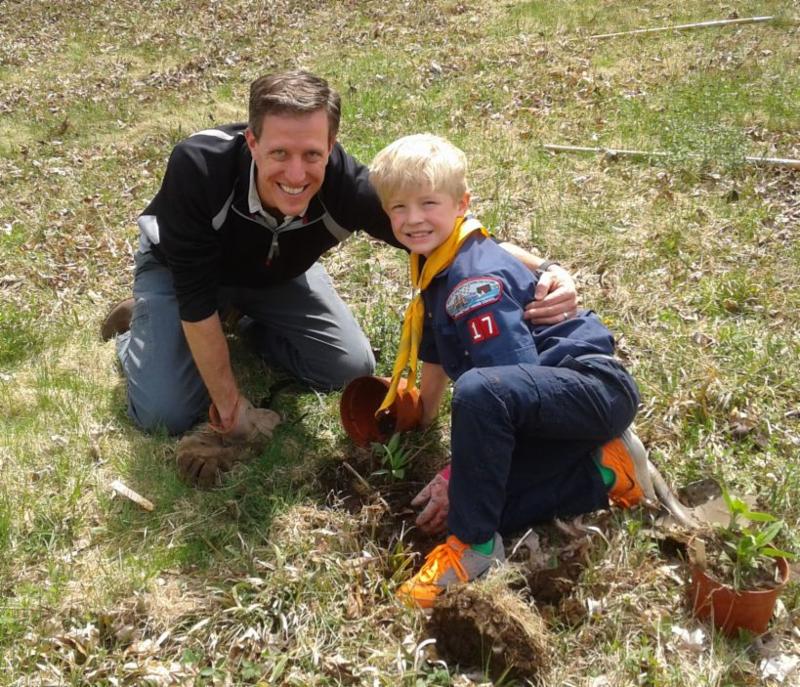 On Sunday, April 23rd, Cub Scout Pack 17 and Hillside Cemetery partnered to planted the first garden on the Wilton Pollinator Pathway!    To learn more about the Pollinator Pathway,
click here
.  If you need more information, contact
Pam Brown.
WCC now has a recycling bin for used textiles in the parking lot behind Pilgrim Hall.  Please support the church and the community by placing your unwanted textiles in the box.  This is not like Goodwill, as we will take them in any condition.  These are collected and recycled by Bay States Textiles.  They are either mended and sold to third world countries, turned into wiping cloths, or made into filler material.  This reduces the amount of waste going into our landfills.  They need to be put in plastic bags before putting them in the box.  
Click here
 for a list of acceptable items.
Job Position Available at WCC
Do you have travel-size toiletries that you're willing to donate? Please drop them off in the basket in the lobby by the church office. These items will help clients at Norwalk's Keystone House.
Si
gn up to adopt "Traveling Jesus" for a week! He's great on family vacations or just to hang out with you.  Fill out the accompanying journal to let us know what you did together!  Sign up here or let Rev. Anne know after worship on Sunday if you'd like to take him.
To get weekly news and updates about Wilton Congregational Church, sign up for our eNews by clicking here.